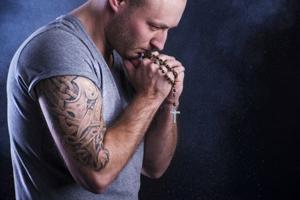 Posted: Sunday, October 16, 2016 6:30 am
A year ago, my youngest daughter and I moved from Arizona to Colorado. Last month we moved to Wisconsin.
While this is my home state and I have an abundance of family and friends nearby, doubt and second-guessing were standing nearby ready to whisper in my ear the day the moving van arrived. I knew where these thoughts were coming from—nothing new.
The first thing the enemy ever said to Eve in Genesis 3:1 was, "Did God really say…?" But fear crept into my heart as I wondered how we would fit into this small town community after living in big cities for so long.
Would my daughter adjust well to a new school? Would we be able to stay on track with our Lyme recovery? Would Wisconsin feel like home after being away for so many years?
I watched the movers bring in box after box and stack them into various rooms. Exhaustion began to set in well before anything was unpacked. As I observed the guys hauling things up the stairs, I gave the illusion of being composed while praying a silent "freak-out" prayer:
"Oh God, was this really the right thing? I trust You, but I feel so jumbly. Could you please send me a reminder that You are with me and it's going to be okay?"
Grateful to be distracted by having to check off numbers on a sheet as each box was carried inside, I pushed aside the fear for the next few hours.
Eventually, the driver of the moving truck came inside with the final paperwork. I noticed a tattoo covering his forearm with words in a foreign language and asked what it said. I had asked earlier what his home country was after detecting a thick accent, and he shared that he was from Ukraine. So I was surprised to learn the tattoo was in Hebrew!
He started telling me the words on the tattoo, "Even though I walk through the valley of the shadow of death, I will fear no evil," and I joined in with him to finish the phrase, "for You are with me." It was a verse from Psalm 23. Exactly the message I needed to hear.
When Joshua was preparing to succeed Moses as leader of the Israelite people, Moses comforted him with the words he needed to hear as they prepared to enter a new land: "The Lord Himself goes before you and will be with you; He will never leave you nor forsake you. Do not be afraid; do not be discouraged." (Deuteronomy 31:8)
Encouragement comes in many ways—perhaps from a song, a Bible verse, a friend, a heart-shaped rock, or a feather in my path. That day it came through a complete stranger.
God used a tattoo on the arm of a Jewish man from Ukraine driving a moving truck across America to bring me much-needed reassurance and give a huge boost to my faith.
Yes, I have a beard, am wearing a vest, have Hebrew tattoos and am buying candles, but I'm actually *not* Jewish #thingsyousayatcheckout
20 Awesome Hebrew Tattoo Ideas
20 Awesome Hebrew Tattoos Ideas Hebrew is the symbol language for the original holy bible. It is considered very sacred and stylish too. Hebrew is very close to the Jews and has spread vastly to all the parts of the heavily networked world. The symbols and letters have become very popular …